Order Specific Labeling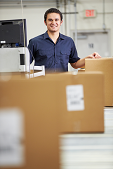 The Objective
Customers want to decide how there goods are labeled:
Either because they want to sell them under their own brand
or because they want to automate their goods entry system
or because the want to implement traceability
The Solution
Our Next Generation Label Printing System allows for a simple fullfillment:
You can use our web based layout editor to create customer or product specific labels:

Text in different fonts, barcodes (1D and 2D), images
Dynamic data fields from your ERP and production systems
You can use scripts to adapt data fields (eg to generate a composite barcode from different data fields)
You can use our background images to easily position fields on pre printed (eg color images) labels

We merge the dynamic data into the layout at production time and print them as bitmaps (or PDFs)
You could request labels:

either manually from a web browser
or automatically from your production line (either with a web service request or a project specific TCP connection)
or use a hybrid approach were part of the data is set automatically and part of the data is entered manually
or import batch data file (Excel, CSV, JSON or XML) to request multiple labels in a batch operation
The Advantages
The advantages of our solution are:
You only need to install our software on the server. Clients just use their web browser.
Simple integration ERP systems. You just need a link into our browser app.
Simple integration into packaging lines. We support web service requests or could implement a custom TCP interface.
We create our bitmaps on the server. So you could check the final appearance on screen.
We create an identical output on different printers.
Features
Interfaces
ESL
Deployment
Contact
Contact us for more information:
Or contact us directly:
RSJ Software GmbH
Holzstrasse 4
82120 Germering
Germany

Phone: +49 89 89 41 42-0
Fax: +49 89 89 41 42-80
E-Mail: info@rsj.de